Navigate to: Home » BICON Cable Accessories » BICON Cable Cleats

BICON's Components business unit, based in Wrexham, is the UK's leading manufacturer of

BICON Cable Cleats

, Cable Support and Fixings Systems and offers a range that is both comprehensive and diverse. Through many years of industry experience and working closely with their customers, Prysmian Group is able to offer

BICON Cable Cleats

to support and fix all cable types on the market.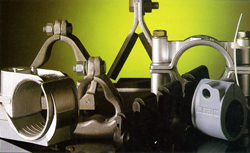 The BICON accessory range has been designed and tested with The Prysmian Group cable products and are recommended as the preferred method of installation. The ever popular

BICON Two-bolt Cable Cleats

,

BICON Hook Cleats

,

BICON Telcleat

and BICON Claw Cleats are available in a range of materials to suit a variety of applications, including heavy duty variants. Their patented

BICON Multicleat/Multistrap system

and the Trefoil families offer installers several viable options for Trefoil installations.

When installing fire resistant and Low Smoke Zero Halogen cables it is important that the accessories used meet the same performance requirements as the cable so as not to impact on the system performance in case of fire. As the UK's market leader in both of these types of cables it is no surprise that the Prysmian Group is able to offer specific fixing solutions. Look out for the FP, Afumex, FT and Saffire logos in the catalogue which highlight these.

A thermoset epoxy coating is available on all ranges of BICON Aluminium Cleats and bases, and can be specified where consideration as to the nature of the environment is one of prime concern. It offers outstanding protection in areas containing a combination of one or more of the following: saline, chemical attack, pollution, high humidity and/or high ambient temperatures.



BICON Cable Cleats

have been used on a vast number of major electrical engineering projects including: the Channel Tunnel, Gorgon LNG, PEARL, London Heathrow T5, Helwyn Windfarm and the Woodhead Tunnel.



Technical Data subject to change without notice - Please
contact us
to ensure you get the latest data
download our useful cable cleat selection chart below:


BICON / Prysmian Cable Cleats Selection chart
here



The printable data sheets are in PDF format below:-
BICON Accessories


Below is a short video showcasing the new BICON Shear Torque Tensioner:
Please check our our new
BICON Cable Cleats
website:

BICON Single Way Cable Cleats |
BICON Trefoil Cable Cleats
|
BICON Fire Resistant Cable Cleats
|
BICON Cable Cleat Accessories
|
BICON Cable Cleat Bespoke Solutions


BICON is a registered trademark
of The Prysmian Group